I'm so sorry about the title. It was just so much more entertaining than "A Brief History of Roses Through the Study of Period Paintings." I couldn't help myself.
Any
way...as with most things, I didn't start out to write about roses from the past. And yes, I mean roses--the iconic flower of love, friendship, and anything else you might care to mention, depending on the color. To be honest, roses aren't even my favorite flower. I prefer
peonies
,
gladiolas
, and
irises
. However, my latest project is the pink dress pictured below, smartly accessorized by a straw hat trimmed with--you guessed it--roses.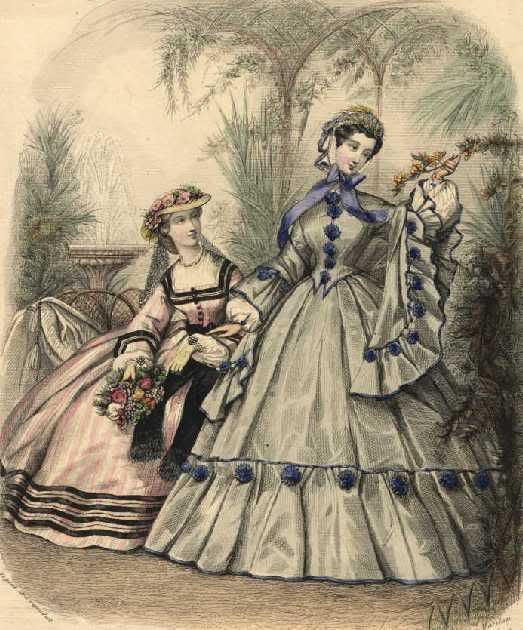 Spot the roses? Seems pretty and appropriate to go with a pink dress.
That got me thinking, though. That's where I got a little carried away. My friends tell me that I overthink things...and this is totally proving them right. Anyway, I started wondering about roses throughout history. If nothing else, I got to look at a bunch of pretty paintings, and it helped me kill some time of a morning, so I figured, why not share? So here we go.
Obviously roses have been around for a heck of a long time. In
Romeo and Juliet
, which is thought to have been written between 1590 and 1595, Juliet monologues, "That which we call a rose/By any other name would smell as sweet." My interest in their existence dates significantly later, however. Namely, how were they seen, used, and worn in the 18th and 19th centuries?

Pastoral by Bouchard, 1761
This charming couple (and their goat) presides over a basket of flora. A couple roses nestle among the blossoms, and the young lady has affixed a full-blown rose to her bodice. Hopefully she was mindful of the thorns, first.

By Rosalba Carriera, date unknown
A little more formal, this painting (Mme. de Pompadour?) shows another take on roses in the 18th century. The subject wears a garland about her neck, with a lovely pale pink rose blossom taking center stage.

Marie Antoinette by Elisabeth Vigee-Lebrun
I love Elisabeth Vigee-Lebrun's work. She painted radiant ladies with a soft, glowing touch that makes every painting just delicious to look at. This portrait of Marie Antoinette looks to me like it was done in the 1780s, going by the clothes. The roses are obvious, both in the hand, and on the table.

A fashion plate c. 1812
When it came to the early 19th century, I was hard-pressed to find examples of roses in illustrations. Certainly they seemed less prolific than in earlier paintings, both as background decor and fashion statements. This plate from 1812 shows a woman in full evening dress, with a coronet of roses in her hair.

A fashion plate c. 1812
While I saw numerous examples of roses and other flowers on ladies' dresses in the works of 18th century artists, no such trend appeared in the early 19th century works I looked at. However, the bonnet on the top left looks to have a cluster of roses at the crown, proof that somewhere, someone thought roses were pretty to use on clothing in some way.

Madame Vincent by Louis-Léopold Boilly, c. 1820
Look, look! Roses, and there's a
yellow
one. The beginning of the 1800s was a good time for roses. Empress Josephine purchased the Chateau de Malmaison in 1799, and hired a number of horticulturists to help her landscape it in the English style. And when I say "help her," I don't imagine she was out laying turf herself, but you get the idea. One of those horticulturists, Andre Dupont, had a great love of roses which Josephine came to share. Her goal was to collect all known roses from around the world (no doubt facilitated by her husband's global escapades). Between 1817 and 1824, Pierre-Joseph Redoute published
Les Roses
in three volumes, containing his paintings of Josephine's roses.
A Picture of Roses
has nearly 200 of these illustrations available online, and it's absolutely fascinating to see the different varieties so precisely depicted.

Mrs. János Matta by Miklós Barabás, 1860
One of my favorite uses of roses--in the hair! I'm a little biased, but I think there's little as lovely as a softly-colored rose in a coiffure of smooth, dark hair. One thing I can say from experience, though, is that it's not easy to pin big fat blooms like that in one's hair.

Adelina Patti, by Frans Xavier Winterhalter, 1863
See, like I said--dark hair and roses. It's a thing with me. In any case, the acclaimed operatic soprano above wears not just a rose in bloom, but a cluster of buds as well.
Roses were also pinned on dresses for special occasions. In
Little Women
, Louisa May Alcott writes about Meg having "A cluster of tea-rose buds at the bosom..." of a borrowed dress, and all three younger sisters wore, "blush roses in hair and bosom," to Meg's wedding.

Godey's 1876
And, because if something is worth doing, it's worth overdoing--check out the pink and white confection. Forget just pinning flowers to our bosoms, ladies. We're going to festoon our entire
bodies
with them. And, if you scoff, take a look at this
recreation
of that particular gown. If that's not an inspiration to start sticking roses to everything you own, I don't know what is!