...And I don't mean the dust bunnies under my sewing desk...those are still not quite at the point of staging a hostile takeover. (Note to self: sweep soon.) No, I'm actually talking about this: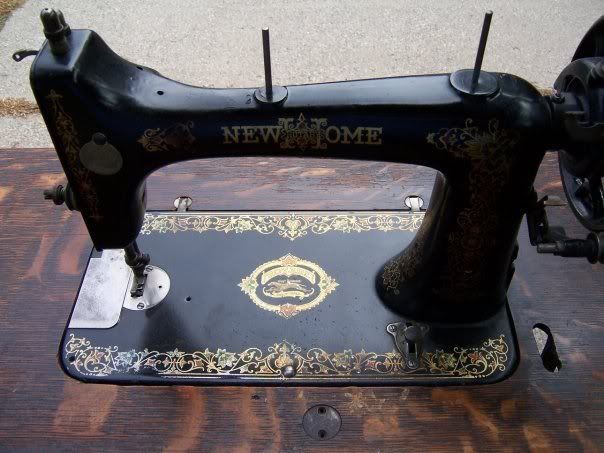 New Home Rotary Treadle Machine
I bought this machine just over two years ago. I had just gotten my "big kid" job, and a paycheck to match. There was one lone antique store on the route I took to work then, and I stopped by one afternoon to look around. I spotted this machine almost immediately, but it took me another month or so, visiting every so often, to decide to buy it.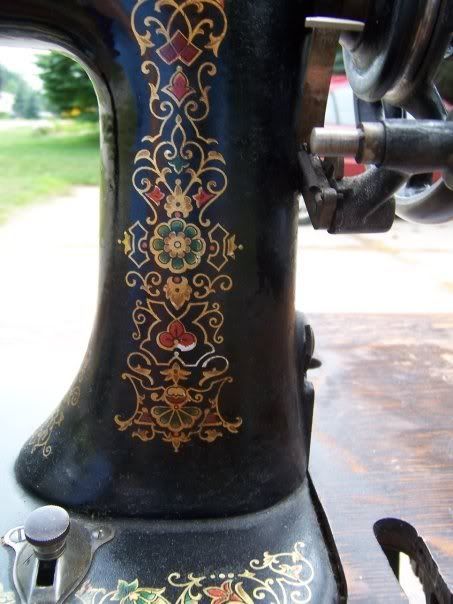 Condition: Not too shabby!
The cabinet and hardware were all in pretty good shape, and a little fiddling in the store established that all the parts still moved. My mom helped me get it home and let me store it in her garage until I found a place for it upon moving into a new apartment. I got a new belt for it from
Lehman's
at Tyler's recommendation, and Mike helped me install it. Brave man; he sliced his hand in the process, but the task was accomplished!
And...then the machine sat there. For a long time. I put photos on it, took pictures with it, and got frustrated when I couldn't make it work. So it sat there. And then yesterday, right before I was supposed to go meet a friend for dinner, I decided I was going to make it work.
As it turns out, all I had to do was tighten the belt. I took several inches out of it, re-attached it, and finally figured out (thanks to a little internet research) that you have to use
both
feet on the treadle. Or at least...I do, since my foot doesn't cover enough area to move both the front and the back of the treadle from one position. Your mileage may vary. Anyway, it works! I didn't get a chance to thread it up, since I had to change and dash out the door for my lady-date, but I'm beyond thrilled at finally getting it running!
Since I have two 1860s dresses in the very beginning stages (as in, I just finished cutting skirt panels and am ready to begin skirt assembly), I've got romantical ideas of sewing them on an antique machine, just for kicks and because, seriously, how awesome would that be? So I think tonight will be fiddling with threading, tension, etc, and then some actual sewing!