Well hey there. I hope everybody (all like...three people who see this, anyway!) had a great summer. I know I did--I gave myself the summer off of sewing and crazy week-after-week events, and I found it quite relaxing. I spent quite a bit of time with my family, and especially with my sister. She's lived away from home for the past few summers, so it was really nice to be able to just go hang out with her whenver we felt like it, instead of having to plan a whole trip just to spend a few hours together.
I did go to a great reenactment at the beginning of August, however--the Siege of Old Fort Erie, in Ontario. I made myself a new chemise to wear, but that was it.
Samantha
gifted me a bonnet when she visited in May, and she made me this beautiful apron, too.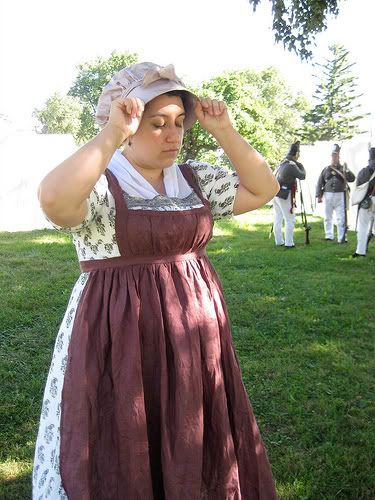 Silk bonnet, linen apron.
I do believe that both pieces are entirely handsewn, and the only thing I did on either of them was to sew on a button to the apron, and put in a buttonhole. It was magical. I wore clothes that I didn't have to make! I could get used to that...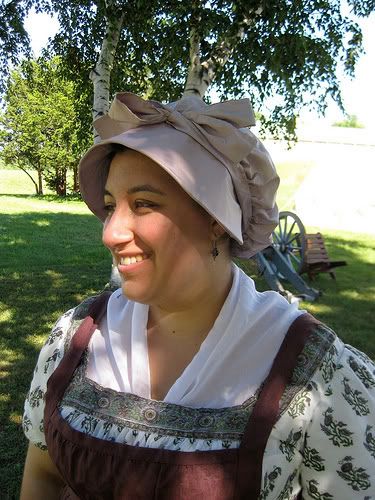 Another of the bonnet, because it is wonderful and I don't do millinery.
Gwendolyn made herself a new dress for the event, which you should go read about on
her website
. Tyler also produced two of the niftiest pairs suspenders I have ever seen in my life.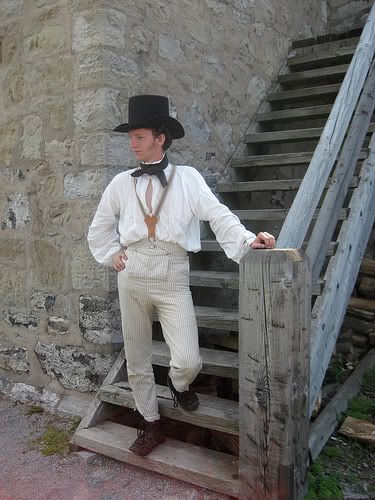 Y-front suspenders on display.
I'm unsure of exactly the documentation, but they
are
documented. I absolutely love them. Tyler purchased the tape for his at Needle & Thread, and he made Mike's out of woven-patterned, sewed into strips, from his not-unimpressive stash. The button tabs are leather, and both gentlemen report that the Y configuration of the front allows for greater freedom of movement than conventional straight up-and-down suspenders.