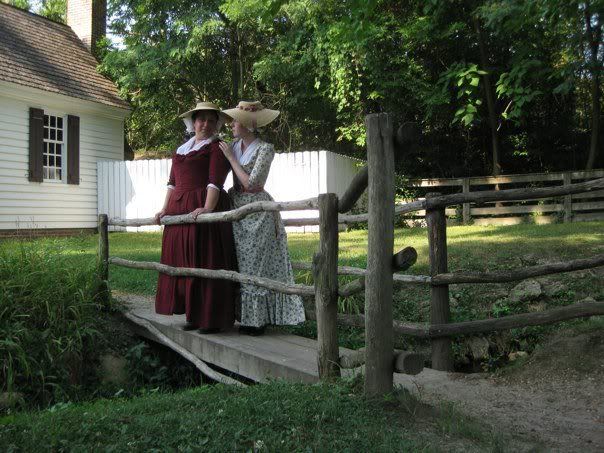 A pleasant afternoon in Williamsburg
I should probably mention right at the beginning here that I'm a cold-weather girl. In my world, it should never get above 57 degrees to be ideal. I can deal with up to 70, but for me, that's hot. Eighties is TOO hot, and above ninety, I'm in hell. That being said...despite the fact that it was over
a hundred degrees
in Williamsburg while I was there, I had an absolutely amazing, fantastic time! Keep going to read more. With pictures, of course!
Under the Redcoat is a scenario reenactment. I have no idea if that's an official term; what I mean, though, is that there's an actual story being told throughout the course of the event. Many reenactments are really just "enacting." They aren't recreating anything, there's no story to be told, no task or event to accomplish. They're essentially people camping in funny clothes, usually demonstrating aspects of historical life to the public.
This
event, however, is actually taking place to recreate a miniature version of a real event, in the same location of the original event. In 1781, Gen. Cornwallis' troops took over Williamsburg for a week or two and the town was under martial law. This is the setting in which Under the Redcoat takes place.
As such, anyone in historical outfit is
also
under martial law. We could be searched at various barricades throughout the town, and had to present proper credentials in order to be allowed passage. My friends and I were in possession of such papers, since we were registered as followers of the Von Donop regiment, and Mike was serving as valet to their captains for the weekend.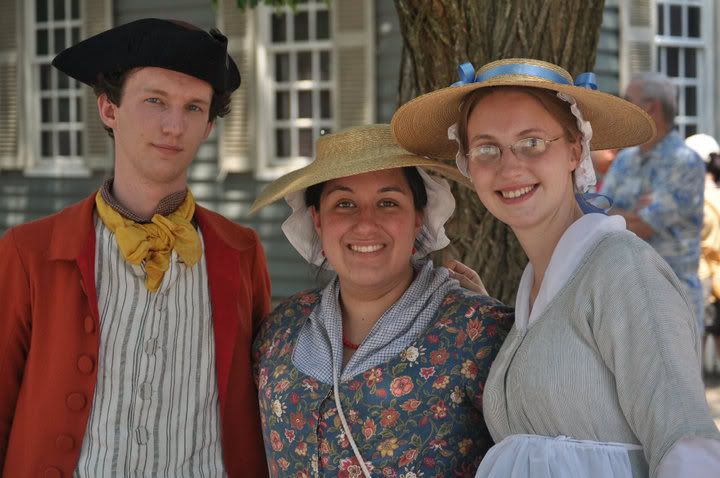 Meeting friends!
Of course, regardless of scenarios and soldiers, reenactments are also very much social events. I was really privileged to meet several people who I've only known online until that weekend. Above is a photo of the first time I met my friend Kelly, snapped by her husband, Blake. I had so far only known Kelly via Facebook, so getting a chance to meet face-to-face was awesome!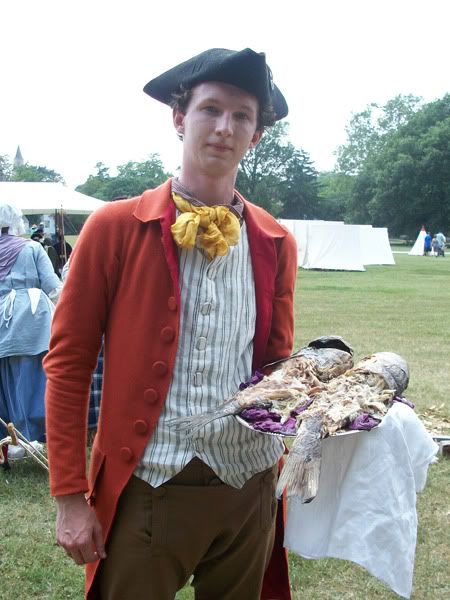 Tyler, earning his keep.
In addition to our own clothing, Mike and I also put some not-insignificant work into making sure Tyler would be fully (and appropriately!) clothed for the event. Above, Tyler models his linen breeches and waistcoat, by yours truly, along with a lovely orange wool coat by Mike McCarty. And actually, I think he's borrowing one of Mike's shirts, too. I wish my life were like that...show up to a reenactment and have my friends just hand me clothing they'd made for me...must be nice.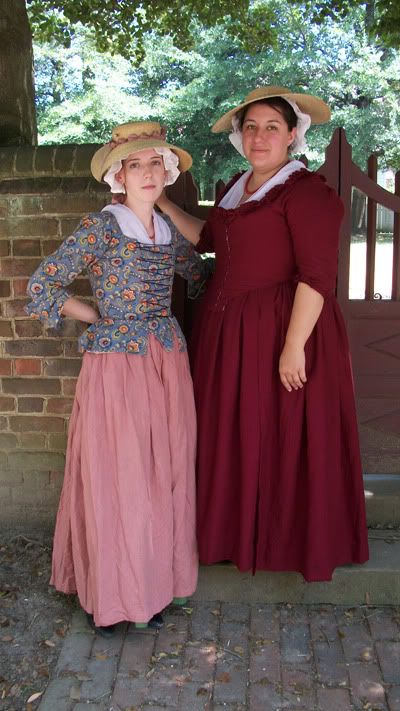 How scenic!
Gwendolyn joined us when she was able, as she is currently living & working in Williamsburg. Because she was working, though, she wasn't able to spend
all
day running around
sweating herself to death
playing history with us.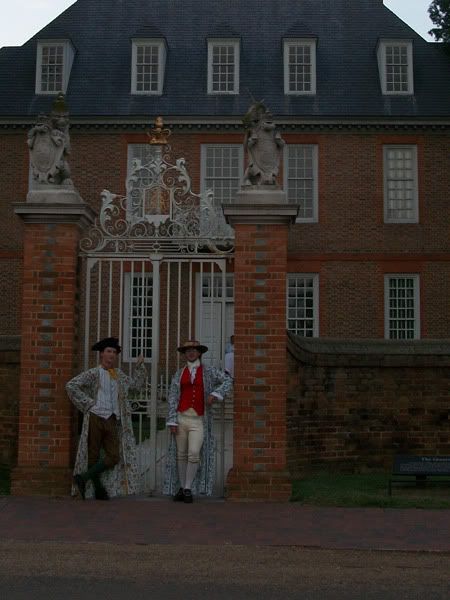 At the Palace.
In such hot weather, Tyler & Mike got some real use of their banyans. I was absolutely thrilled to see them in action, and apparently they were stopped by visitors several times to answer questions about their apparel while wearing them.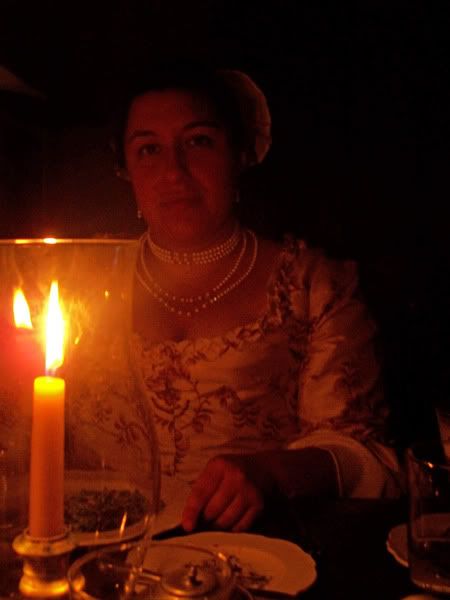 Dinner by candlelight.
We finished off the event with a beautiful dinner at the King's Arms tavern on Duke of Gloucester street. Everyone wore their best finery (the Fancy dress, in my case, along with a gorgeous pearl and crystal necklace that Mike made for me, last Christmas) and had a lovely time of it.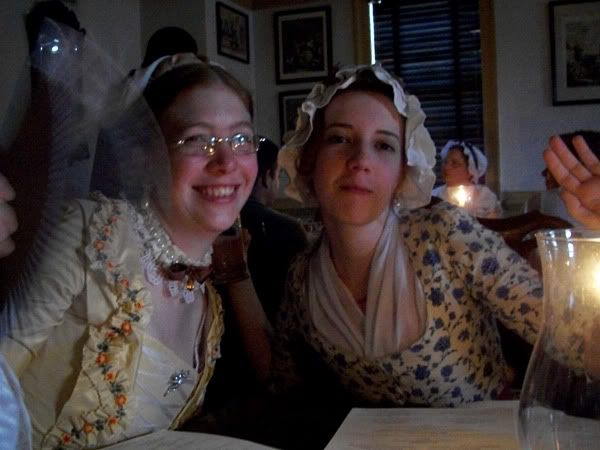 Such a lovely evening!