Lovett Hall, Greenfield Village
May 30, 2010
Over Memorial Day Weekend, my friends and I headed to Greenfield Village in Dearborn, Michigan, to attend their annual Civil War Remembrance event. Despite unseasonably warm weather and high humidity, good times were had by all. This same event in 2009 marked the beginning of my involvement in Civil War reenacting, so it was really fun to go again and see how far I--and my friends--have come in just one short year.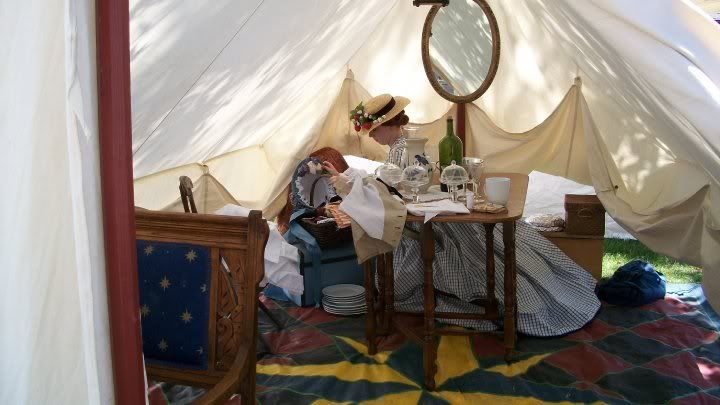 Welcome to our camp!
Our camp consisted of Mike's 6x9 wedge or "A" tent and Tyler's 9x12 wall tent & floor cloth (on loan to me while he is at grad school), populated by a flock of my antique furniture and the folding chairs that Tyler recovered for us to use last year. Above, you can see how Mike set up the wall tent to use as a living area during the day.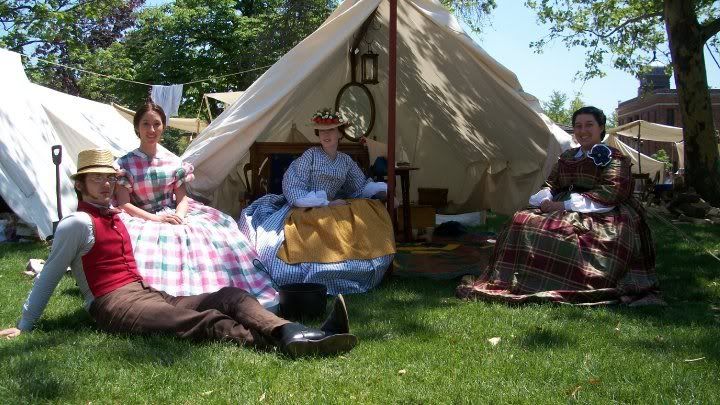 Loving the shade...
Our camp was four--Mike, Samantha, Gwendolyn, and myself. Gwendolyn's mother visited us frequently, not garbed a la 1860, but it was wonderful to have her with us and she took good care of us all weekend, bringing us ice and popsicles when it was unbearably hot and inviting us to cool off with her where she was staying for the weekend.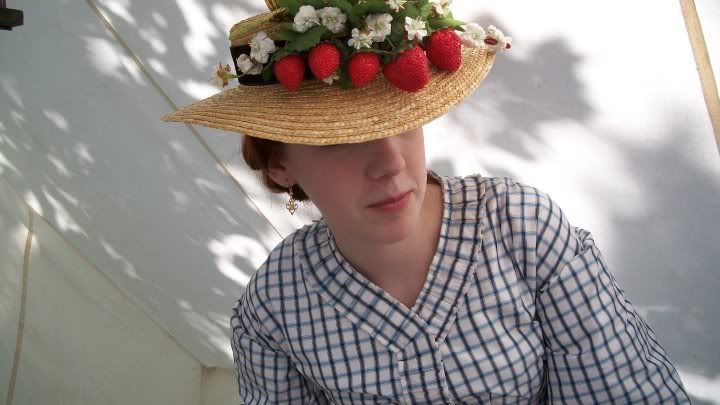 Gwendolyn's new outfit!
I didn't make much for this event, but Gwendolyn put together a whole new dress of windowpane-checked silk. I gave her my old
silk regency dress
, and she turned it into some really fantastic 1860s daywear. The hat is also mine, retrimmed from last year, and on semi-permanent loan to her for the weekend because it looked SO perfect with her outfit!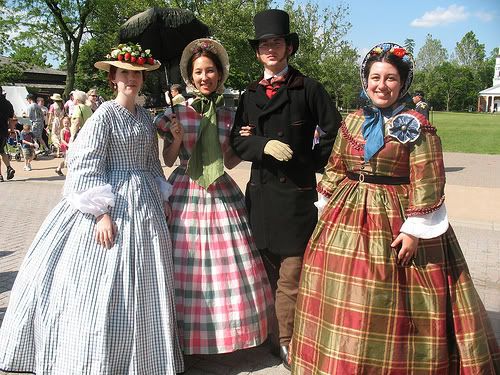 After the fashion show.
The only new thing I made for this event to trim a bonnet--the form was a gift from a good friend, so all I had to do was decorate it. The ribbon I ordered for ties didn't arrive in time (I received it upon returning home from the event!), so I took the ties off my winter hood for a quick fix. We kept busy, participating in the fashion show, seeing the sites, talking to friends old and new, and riding the rides.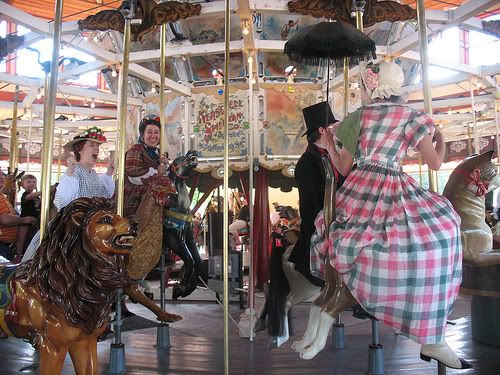 I think this is my favorite picture from the weekend.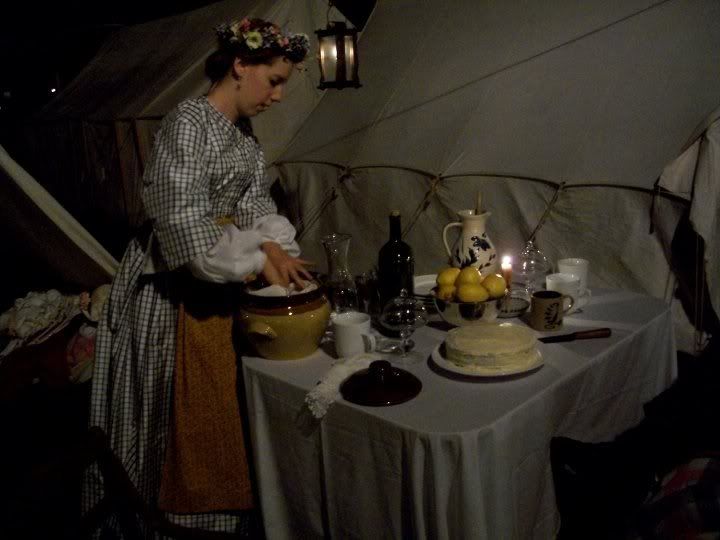 Setting up for a party.
Since most of us have spring/summer birthdays, we had a little party to celebrate and exchanged some small gifts. For a special touch of whimsy, Gwendolyn and I put together some wreathes of flowers for us ladies to wear in our hair.

Does this count as a tablescape?
For our party, we had several lovely cheeses and good bread, plus a chocolate cake with buttercream frosting at strawberries. We couldn't finish the whole cake, so later in the evening we trekked with it down to the other end of the Village and gifted it to our unit--the 26th Michigan--where it was much appreciated first as a dessert, and then later as breakfast!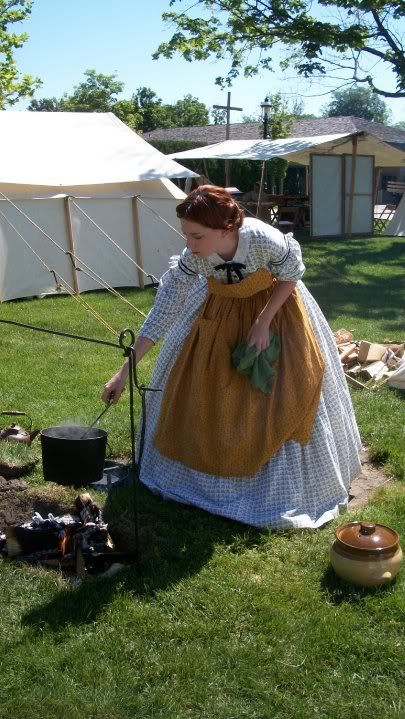 Gwendolyn being my hero.
Gwendolyn took over most of the cooking and food prep for the entire event, which was no small feat. She made us a menu, prepared everything, and did almost all the cooking at the actual event. Even when it was beastly hot. What a trouper! And yes, the food was delicious.

Gwendolyn having a "moment" with the leftover oatmeal blueberries.
She did get some time to relax, though, and she had the foresight to make herself a lovely little apron, too!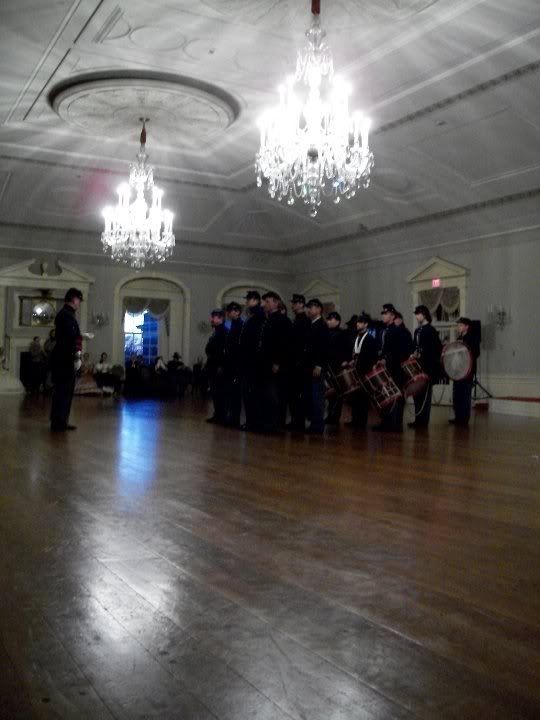 Camp Chase.
Sunday night there was a ball for the participants, the highlight of which (for me, anyway!) was the intermission. Camp Chase Fifes & Drums...well, they're fantastic. One of their members happens to be a good friend of mine, and as a lover of fife & drum music, I count myself fortunate to have been able to meet personally several members of the group and to have spent time with them at events in a non-official capacity. This particular evening, though, they turned out in full force to play at the intermission in the Lovett Hall ballroom. It was...amazing. I don't know that I could describe it adequately if you've never experienced something like it.
That pretty much hits the high points...but if you want to see more pictures, my
album on Facebook
has dozens more. Gwendolyn also has a
set on Flickr
. Enjoy!