It always happens. You have all these great ideas for sewing, blogging, etc...and then you get sick. Spend a couple weeks coughing, sleeping, and high on DayQuil, and all of a sudden you realize you've gotten nothing done. Oops. Ah, well. At least it wasn't the swine flu (which I had last October), and my ears are no longer plugged up so's I can't hear...so I think I'm better!
So a few things to share, now that I've rejoined the land of the living:
My dear friend Tyler is a fellow at
Winterthur
, studying material culture for the next couple years, and getting to see and do all sorts of cool things while he's out there. He's got a new blog,
All Dressed Up With No Place To Go: Run(a)way Fashion in Early America
, and if you're the least bit interested in historical clothing, good writing, or just history in general, you should go give it a look. While completing his undergraduate degree, Tyler wrote a number of articles on Confederate prisoners of war at Johnson's Island, Ohio, nearly all of which presented these far-off historical figures in such a vivid, poignant,
human
way as to bring me to tears. I'm definitely looking forward to seeing what comes out of this new blog!
On my end of things, there have been a few events of note. Last weekend,
Mike
and
Gwendolyn
and I went to the
Kalamazoo Living History Show
, which is essentially two days of reenactor shopping heaven. I bought quite a few
essentials
that I think will make our lives as reenactors much more pleasant...and of course, we went in costume. Mike kitted out in his
First Regiment
getup, Gwendolyn wore her
1810 outfit
, and I actually had a
new
dress, which I love.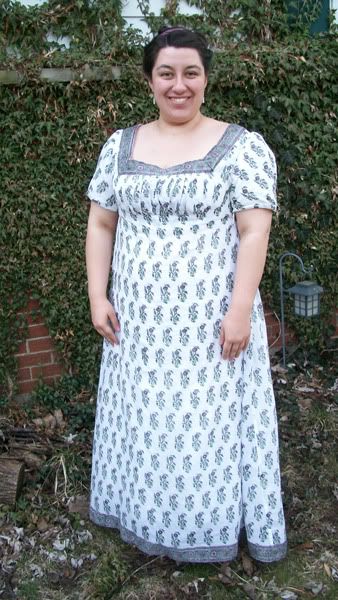 This is definitely my favorite "regency" dress I've ever made, and I will be wearing it again this weekend at the Regency Exhibition Ball in Lansing. I decided against trying to finish the embroidered dress in a hurry, since I worked very little on it when I got sick, and I'd really like to take my time and do it right. This new dress turned out really nicely, though, and I'm looking forward to wearing it again! There will definitely be more pictures after Saturday.
Also on Saturday, we've been asked to do a demonstration to promote a masquerade that the Exhibition Ball committee is planning in South Bend, Indiana. We'll be doing a dance walkthrough while wearing masks...which of course means, we need masks. Here's a a sneak preview of
mine
...so stay tuned for more!