I first discovered
Spencer's Mercantile
at the Siege at Old Fort Erie in August 2009. Walking into their tent was pretty much magical...one of the most shop-able establishments I've ever been in at any reenactment, and their merchandise!
I turned to Gwendolyn and asked, "If I just hand them my credit card, do you think they'd just let me back my car up to the tent and start loading it up?" They had seemingly everything a reenactor could want, from shako plates to swords and shawls. I managed to contain myself, and picked out only a few things.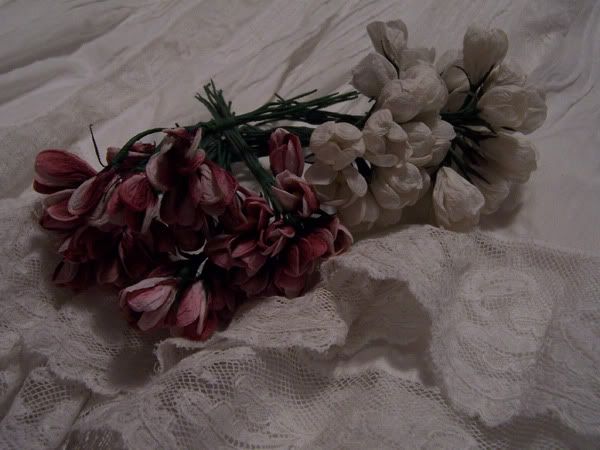 Parchment crocuses; one of my purchases from Spencer's Mercantile.
Their customer service was flawless, too. The weather that weekend was hot and muggy, with a smattering of rain every so often. I know
I
wasn't in the best mood all the time! But they were helpful and friendly, and to my surprise, recognized me when I went back in street clothes the next day, even. That's right, I went back. Parchment crocuses weren't enough! I just had to have that wooden comb, and the turtle charm...
Since then, some of my other friends have discovered them, too. Most recently, I believe they were among the first to stock the new Robert Land 19th century/1812 shoe styles for men
and
women. I'll be ordering my pair from them shortly!
Anyway, you can bet that if I ever get the chance to visit their brick-and-mortar store, I'll be there in a heartbeat. Until then, or the next occasion I have the pleasure of encountering them at an event, I'll have to content myself with
their website!